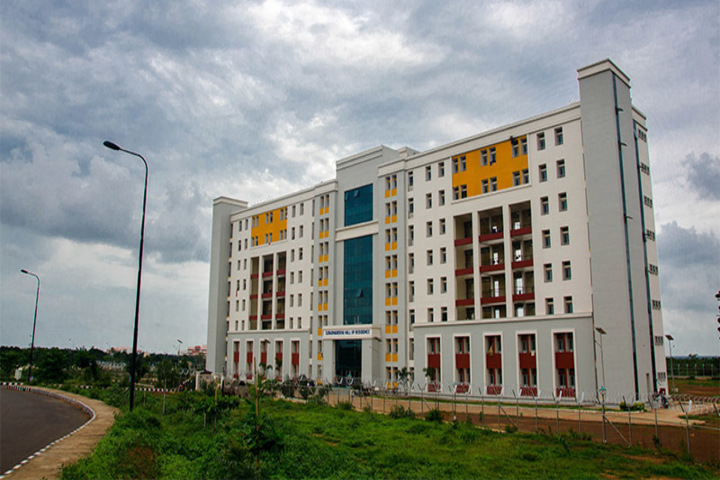 Commencement of Classes from 1 to 5 of New Kendriya Vidyalaya at IIT Bhubaneswar
---
It was indeed a special moment for the faculty, staff, students, and parents of New Kendriya Vidyalaya-IIT Bhubaneswar, as the occasion drew unparalleled enthusiasm in everyone in witnessing a spectacular opening of Classes from 1 to 5 of the school. Dr. Rajendra Prasad Singh, Chairperson, Board of Governors, IIT Bhubaneswar and also bestowed with the additional responsibility of Chairperson, Board of Governors, IIT Kharagpur graced the occasion as a Chief Guest and Shri Debaraj Rath, Registrar, IIT Bhubaneswar, graced the occasion as the Guest of Honour in the august presence of Dr. S. Bose, Deputy Commissioner, KVS, Shri D. P Sharma, Principal I/c KV-IIT Bhubaneswar & Principal, KV Khurda road and other dignitaries, guests, well-wishers, and parents.
The 1st Class of newly established KV IITBBS was ceremonially opened today making a beginning of the new era of primary learning at IITBBS starting its academic session for 2022-23 with an admission of 128 students out of 200 sanctioned seats. The school will soon seat more number of students in the form of Class VI-VIII, admission for which will be completed by this week.
Speaking on the occasion, Hon'ble Chairperson, Dr. Rajendra Prasad Singh Ji, extended his heartfelt congratulations to the students, parents to be part of this auspicious moment. He briefly highlighted the journey of IIT Bhubaneswar to establish the New Kendriya Vidyalaya at its permanent campus. He said that it was the dream of our Hon'ble Minister for a long time that comes true. He further added, let's hope that this temple of learning will stand erect for many years to come, giving the light of truth and knowledge and thereby fulfilling the real purpose of education. We need to dedicate ourselves to build up this beautiful edifice of learning as a landmark for the whole country. Addressing the parents, he said that earning money in life is not so worthy if your children do not develop properly. The best income of life is your children's development in all aspects.
On this occasion, Shri Debaraj Rath, Registrar expressed his gratitude to the Hon'ble Prime Minister of India, Shri Dharmendra Pradhan, Hon'ble Education Minister and Prof. V. K. Tewari, Director, IIT Bhubaneswar for their remarkable steps to build up this beautiful temple of learning not only for the state of Odisha but also for the entire country. This is the moment we have waited for a long time, we should be proud & witnessed this grand maiden opening of Classes from Std I to V. He also said that with the hands of the teachers the school would grow at its optimum level.
Dr. S. Bose, Deputy Commissioner, KVS addressed the gathering and expressed his gratitude to all the team members for their support and start of this KV in record time. He also expressed that today is a very auspicious day as Smt. Droupadi Murmu who belongs to the State of Odisha is taking oath as the 15th President of India.
Shri D. P Sharma, Principal I/c KV-IIT Bhubaneswar & Principal, KV Khurda road in his vote of thanks speech profusely congratulated the team of IIT Bhubaneswar for the timely support and he also motivated the students of KV for their bright future.
The opening ceremony ended in a happy and fun celebration with the distribution of gifts, and chocolates to the students by the Hon'ble Chairperson.