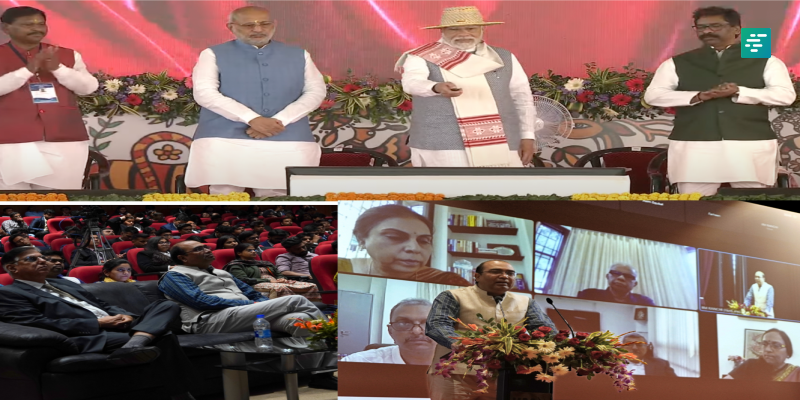 Prime Minister of India, Narendra Modi inaugurate and dedicate the new state-of-the-art IIM Ranchi campus to the nation
---
The Indian Institute of Management (IIM) Ranchi had the privilege of having the Honourable Prime Minister, Shri Narendra Modi, inaugurate and dedicate the new state-of-the-art IIM Ranchi campus to the nation.
Securing an impressive 7th rank in Outlook-Icare India's Best B-School 2024, IIM Ranchi has excelled across key domains, attaining exceptional scores of 100, 87.94, 95.2, 86.71, 77.91 in Faculty-Student Ratio, Research, Employability, Faculty Quality, Inclusiveness, and Diversity, culminating in an exceptional total score of 447.76 out of 500.
Setting ambitious goals for 2030, IIM Ranchi plans to redefine excellence in Education, Research, Social Impact, and International Collaboration. With a commitment to forge partnerships with industries and invest in cutting-edge technological and physical infrastructure, the institute is dedicated to impactful research addressing real-world business challenges and societal needs. Establishing collaborations with government and non-profit organisations, IIM Ranchi seeks to foster community engagement and contribute meaningfully to societal enhancement. The institute is poised to sign Memorandums of Understanding (MoU) and facilitate two-way student exchanges with esteemed foreign universities.
IIM Ranchi, with its GRIHA 3-star rated campus facilities, boasts of an expansive auditorium accommodating 650, a cutting-edge Video Conferencing facility, 20 spacious classrooms with seating capacities ranging from 50 to 135, and three well-appointed hostel blocks providing residence for over 1000 students. Comprising two dedicated blocks for faculty and staff residences, the campus also features a grand dining hall, sewage and water treatment plants, a computer centre, and an extensive library. Architectural highlights include an Administrative Building, Director's Office, Board Room, Conference Hall, and Faculty Offices, all equipped with modern amenities such as CCTVs, air conditioners, lifts, and solar panels, ensuring a conducive and technologically advanced living environment.
The Prime Minister, who visited Jharkhand on the occasion of Janjatiya Gaurav Diwas, virtually inaugurated the new IIM Ranchi campus from an event in Khunti, Jharkhand, where he unveiled several other government schemes to aid in the upliftment of tribal communities across the country.
The inauguration ceremony continued at the Swami Vivekanand Auditorium at IIM Ranchi with lamp lighting by Prof. Deepak Kumar Srivastava, Director, IIM Ranchi and Shri Praveen Shankar Pandya, Chairman, Board of Governors, IIM Ranchi. Members of the Board of Governors joined the event virtually.
Prof. Srivastava congratulated the IIM Ranchi community on achieving this significant milestone. He thanked the Honourable Prime Minister, Shri Narendra Modi and the Honourable Education Minister, Shri Dharmendra Pradhan, for their continuous support. He also thanked his predecessor, Dr. Shailendra Singh, for his commitment towards the construction of the new campus.
Ms Gayathri Sriram, Dr Sushil Kumar, Dr Shailesh Ayyangar and Dr Hasit Joshipura, Members of the Board of Governors, then addressed the audience, congratulating the entire IIM Ranchi community on this momentous occasion.
Shri Praveen Shankar Pandya, Chairman Board of Governors, continued by thanking the Honourable Prime Minister and laid out his vision for the institute - to be among the top Business Schools in the country.
Prof. Srivastava then felicitated Mr Pandya by presenting him with a memento. This was followed by a vote of thanks to the Prime Minister, PMO, MoE, the Chairman and the Board of Governors, the Director, Faculty, Staff, Student Engagement and Development Committee and the students by the Student Council. The event then concluded with a rendition of the national anthem.