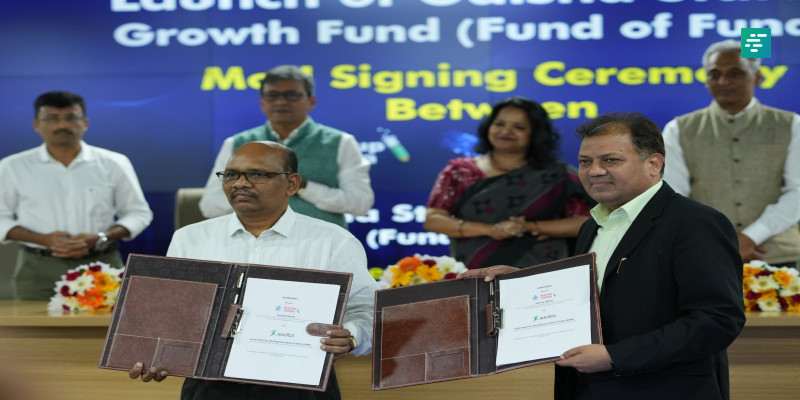 Odisha government launches Rs 100 crore startup growth fund
---
The state government on Saturday launched a Rs 100 crore Startup Odisha Growth Fund (OSGF) with the Small Industries Development Bank of India (SIDBI) as the fund manager. After the initial corpus of Rs 100 crore gets exhausted, the government would consistently replenish the fund ensuring continuous long-term support for startups, officials said.
SIDBI will serve as the fund manager for the growth fund and responsible for shaping its investment strategy and managing its portfolio. The OSGF (fund of funds) is dedicated to investing Rs 100 crore over five years through alternative investment funds (AIF) in Odisha-based startups. The collaboration is set to play a crucial role in bolstering the MSME sector, which contributes 33 per cent to India's GDP and generates over 120 million jobs.
Development commissioner Anu Garg said, "With the fund, our endeavour is to make Odisha the preferred destination for entrepreneurs. The support to initiatives like this will help the budding entrepreneurs to grow, startups to thrive and the MSME ecosystem to become stronger."
Executive chairman of Startup Odisha Omkar Rai said, the fund will foster a vibrant startup ecosystem in Odisha."It will help nurture innovation, catalysing job creation and propelling our startups to succeed both at the national and global levels. We are crafting a future where Odisha would be recognised as a beacon of entrepreneurial excellence," he said.
S Ramann, Chairman & Managing Director, SIDBI said, "We are extremely glad to be working with Startup Odisha and support the growth of Odisha's startup ecosystem. Through financial support and guidance, we will empower startups to thrive as well as make significant contributions to Odisha's economic landscape. This partnership will add another layer to our efforts, setting the stage for the state to become a startup funding hotspot in the next 5-10 years. SIDBI is aiming to continue to act as a catalyst to mobilise domestic capital for country's startup ecosystem."
Odisha currently has 1,700 startups, including 600 women-led enterprises. The ecosystem is supported by 15 nodal agencies, 27 incubators and a centralised incubator 'O-Hub' that provides around four lakh sq ft of incubation space.