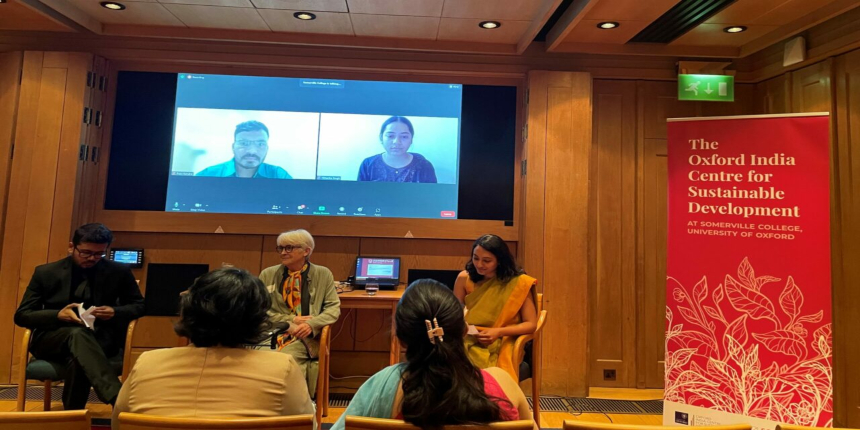 Oxford University college launches Savitribai Phule Scholarship for Dalit, Bahujan, Adivasi students
---
To counter caste discrimination in the United Kingdom, Oxford India Centre for Sustainable Development (OICSD) at Somerville College, has launched a new scholarship for Dalit, Bahujan and Adivasi students to study at the University of Oxford's Somerville College.
The Savitribai Phule Graduate scholarship scheme will be the first graduate UK scholarship for Indian students that's fully funded and dedicated solely to students from underrepresented backgrounds in India – the Scheduled Castes, Scheduled Tribes and Other Backward Classes (SC, ST, OBC). The scholarship also covers first-generation students studying abroad. The scholarship was announced on the 10th anniversary of the OICSD on May 12, 2023 at Somerville College.
The centre will offer a set of graduate scholarships to Indian students working towards sustainable development in India. The Phule scholar, as per the official statement, will be a part of the 2023 cohort. The beneficiaries will be given access to the centre's academic and leadership workshops as well as the extensive networks and opportunities post-graduation.
"In establishing this scholarship, we recognise the effects of historic and current caste-based discrimination and prejudice including household poverty and lack of opportunity as well as lack of information, advice and careers guidance in multiple spaces," the official statement said.
The OICSD was launched in 2013 in partnership between the Government of India and the University of Oxford, to support Indian students at the Somerville College.
Oxford University: SC, ST, OBC scholarship
The scholarship will be applicable to students studying eight programmes. These are listed below.
-MSc Biodiversity Conservation and Management
-MSc Economics for Development
-MSc Environmental Change and Management
-MSc Global Governance and Diplomacy
-MSc Modern South Asian Studies
-MSc Nature, Society and Environmental Governance
-MSc Water Science, Policy and Management
-MSc Energy Systems
In 2023, only one scholarship was made available which has been awarded to Niharika Singh, who will study MSc Nature, Society and Environmental governance programme at the School of Geography and the Environment in October this year.
"By pursuing my MSc in Nature, Society and Environmental Governance at the University of Oxford, I will develop insights on global themes related to environmental governance and community development. Moreover, as a representative of the Dalit community, I wish to contribute in bridging the gap between environmental sustainability and caste marginality in India. Unfortunately, Dalits in India are invisible from the broader discourse of the environment as issues concerning accessibility to natural resources, discrimination and multidimensional vulnerabilities are largely unaddressed in the current environmental policy and discourse in India," Singh said in an official statement.
Along with academic merit, eligible students will be awarded scholarships based on "relevance of studies to the Centre's interdisciplinary aims, understanding of the development challenges faced by India, and leadership and entrepreneurial potential." Financial need will also be taken into account. The Phule scholarship covers programme fees and a grant for living costs.
The scholarship is only awarded to students pursuing postgraduate programmes at Somerville College. However, as per the application process, candidates who have applied for graduate study by the relevant funding deadline will be considered, regardless of which college preference is included in the graduate application. Successful candidates will be transferred to Somerville in order to take up the scholarship.