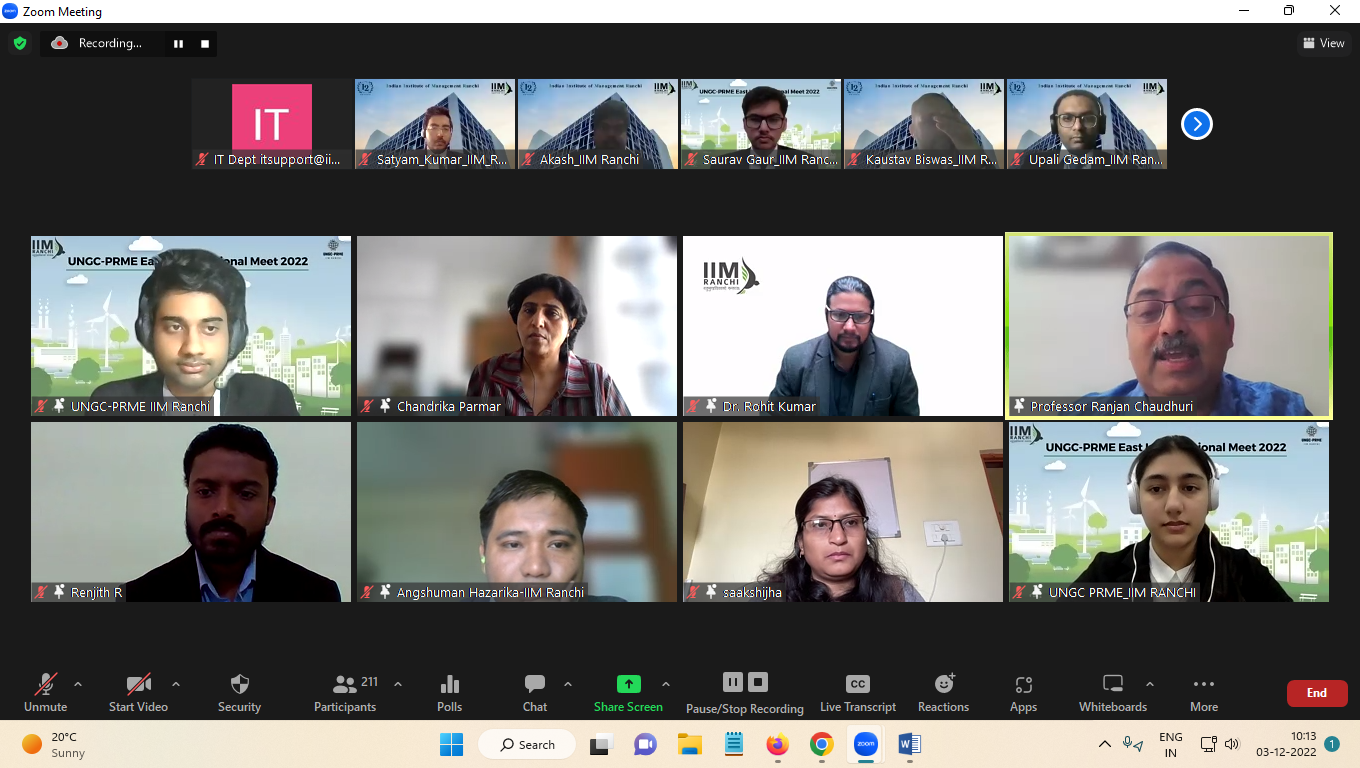 IIM Ranchi hosted its first-ever UNGC-PRME East India Regional Meet with the motto of enhancing partnership and collaboration
---
The Indian Institute of Management, Ranchi, hosted its first-ever UNGC-PRME East India Regional Meet with the motto of enhancing partnership and collaboration towards responsible management, skill development, and sustainable practices.
United Nations Global Compact: Principles for Responsible Management Education (UNGC-PRME) is a United Nations-supported initiative founded in 2007. As a platform for schools worldwide to talk more about sustainability, PRME gives business students the knowledge and skills they need to bring about change tomorrow. IIM Ranchi is the first IIM (of the 20 IIMs) in India to become a signatory to the PRME.
The event started with a welcome address, graced by the presence of dignitaries like Dr Chandrika Parmar, Chair, PRME India Chapter; Dr Renjith R., Chair, Birsa Munda Centre for Tribal Affairs; Dr Sanjeeb Kakoty, Associate Professor, IIM Shillong; Dr Saakshi, Member, ABVCLPG, IIM Ranchi; Dr Ranjan Chaudhuri, Professor-in-Charge (Institute Administration), IIM Ranchi; Dr Rohit Kumar, Faculty Advisor, UNGC-PRME IIM; and Dr Angshuman Hazarika, UNGC-PRME IIM Ranchi.
During the inaugural ceremony, the event's convener, Dr Anshuman Hazarika, addressed the audience and provided a brief overview of UNGC-PRME and its functions under the student-led steering committee. He shed light on the various activities and initiatives undertaken by UNGC-PRME at IIM Ranchi to contribute to responsible and sustainable management activities. Dr. Ranjan Chaudhuri addressed the crowd shortly after, and raised important and thought-provoking questions on the challenges faced in implementing PRME into curriculums and how reflexivity was critical for a much-needed transformative change in our education system concerning PRME.
In her address, the event's chief guest, Dr. Chandrika Parmar, spoke about the stellar work in creating ecosystems to act as leaders in responsible management, making it relevant regionally, nationally, and globally. She encouraged the gathering to collaborate to find broader alternatives and solutions by explaining how individual and collaborative approaches to innovation and changes are essential in creating a conversation around responsible management. Dr. Renjith further expressed how management education was not just about high-flying packages, but about the social responsibility, one should have when being a part of a community. Giving an example of the Birsa Munda Center for tribal affairs at IIM Ranchi, he highlighted a few of the steps taken by IIM Ranchi to uplift the tribal population in Jharkhand.
The guests and speakers were then felicitated by Dr. Rohit Kumar. The Sharing Information on Progress (SIP) Report for 2021–22 was unveiled during this virtual meeting by Dr. Ranjan Chaudhuri, Dr. Anshuman Hazarika and Dr. Rohit Kumar. The SIP Report highlighted UNGC-PRME activities and their impacts through 2021-22.
The event's highlight, the Round Table Discussion, was preceded by a brief introduction to the panellists. Dr. Rohit acted as the moderator for the panel on the topic "Enhancing Responsible Management, Skill Development, and Sustainable Practices", where topics like the current state and the desired state of management education in our country, challenges, and opportunities for improvement were discussed.
Dr. Sanjib talked about how profits and stakeholder values alone can't show how successful a company is and how it's time to make rules to make sure the ecosystem around us is managed responsibly. He talked about the importance of facing the consequences of our actions and taking corrective measures as soon as possible as a community. Dr Saakshi talked about the Atal Bihari Vajpayee Centre of Excellence at IIM Ranchi and how it has empowered women and local communities by helping them on their way to self-sustenance. She talked about the various workshops and skill development sessions conducted by the center to encourage responsible and sustainable management, budget discussions, and research on how traditional practices can be used to contribute to the growth of the Indian economy. Dr. Renjith talked about social management responsibilities and how the BMCTA supports the tribal belt in Jharkhand through education and poverty alleviation. He talked about one of the goals of sustainable development, which is for the tribal population's economy to grow and give them more job opportunities. He also talked about why future managers need to give back to society. This was followed by an interactive question-and-answer round where the panelists answered the questions posed by the students.
The event concluded with the prize distribution for the Sustainvision article writing competition, followed by a vote of thanks.