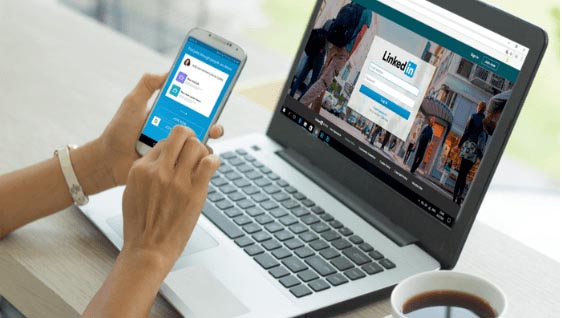 How to Boost Your LinkedIn Profile?
---
With over 810 million users, LinkedIn has grown to be one of –if not, the most– popular professional networking platforms in the world! However, despite being a networking and job-hunting gold mine, only a small portion of these users actually understand how to use LinkedIn to their advantage. As a university/college student, there are some small, yet significant, changes you can make to improve your LinkedIn profile that will vastly improve your appearance on the platform, especially amongst recruiters who are avidly looking for candidates.
By the end of this article, you'll be equipped with 5 actionable tips to improve your LinkedIn profile for the better! Let's get stuck in.
How to Improve Your LinkedIn Profile: 5 Actionable Ways
1. Optimize Your Profile for Industry Keywords
LinkedIn searches are the most common way for recruiters and hiring managers to find job candidates. If you are familiar with SEO (search engine optimization) on Google, it works in the same way: you can optimize your profile page to appear in more searches (and specific searches you want to appear in) by adding keywords throughout the text within your profile.
To start, spend ten minutes writing a list of words or phrases that you'd like to be found for on LinkedIn. For example, if you were looking for a job in content marketing, you could add keywords associated with this discipline in your profile such as content creator, copywriting, social media management, and so on.
The LinkedIn algorithm scans every single part of your profile so make sure to add your keywords to your:
Tagline
Summary
Work experience
Recommendations (if possible)
The more keywords you have in your LinkedIn profile, the more searches you are likely to appear in. The more searches you appear in on LinkedIn, the more connections you are likely to make boosting your profile credibility and also making you much more likely to be found by a hiring manager or recruiter.
However, don't keyword stuff! Make sure to include your keywords as naturally as possible within sentences that describe or give examples of your work.
2. Make Your Tagline Stand Out
Your tagline on LinkedIn is one of the best places to add industry keywords but there are also a number of other ways you can boost your profile by tweaking your tagline.
Due to the nature of the platform, people often compromise on their personalities in their profiles in order to convey professionalism. The result is that taglines and profiles can be a little bland; however, instead of falling into the same trap, you can use your tagline to show your personality.
The goal here is to make your tagline look more click-worthy than the other profiles that appear when your keywords are searched for. Whether you speak directly to the reader or use hashtags, emojis, or symbols, the choice is yours but it is a great way to make yourself stand out.
3. Share Your Opinions and Start Conversations
This is one of the best ways to establish yourself on LinkedIn. If you are just starting out in your career, you may be unsure of what to post about or comment on, but it's important not to stay quiet.
Remember, you don't have to be an expert to either provide value or share your opinion so get involved in industry conversations, comment on trending topics, and share where you can.
By being more active in conversations on the platform, your name is more likely to pop up (along with your tagline) which could result in more connections and conversations.
4. Include Visuals and Work Examples in Your Profile
LinkedIn now gives you plenty of opportunities to provide examples of your work throughout your profile. By combining visuals and work examples in your profile with points 2 and 3, you'll be able to demonstrate evidence of your experience.
Luckily, LinkedIn supports all types of files so you can add all different types of work (video, articles, PDFs, etc). Just starting out? Why not share a project you worked on at university or an article you've written.
When hiring managers are checking your profile, this is one of the best ways to show them evidence of your experience and prove that you're a good candidate. Not many people use this feature on LinkedIn at all, so get ahead of the curve!
5. Collect Recommendations and Endorsements from Your Colleagues and Managers
The recommendations and endorsements section is one of the most looked-at areas by recruiters and hiring managers, so it's important that you utilize this section to boost your online CV/resume.
Don't be afraid to reach out to supervisors, managers, university mentors, or even your Virtual Internships intern experience manager who will be able to provide solid recommendations and skills endorsements for you.
Not only is it one of the most looked-at areas, but the recommendations and endorsements section on LinkedIn is also the section that arguably holds the most weight. It demonstrates your work ethic and character and provides evidence of what you're good at.
How to Measure Success in Your LinkedIn Profile
LinkedIn makes it incredibly easy by sending you a weekly report telling you how many searches you've appeared in and how people have found you. To measure how well your LinkedIn profile is doing each week, ask yourself the following questions:
Have the people you want to find you found you?
Have they found you for the keywords you want to be found for?
How many weekly searches are you appearing in?
What keywords are you being found for?
Are you making connections with other people in your industry?
How much engagement are you getting on your posts?
If the answer is no, then tweak your profile and see how it performs the following week. Unfortunately, boosting your LinkedIn profile isn't a simple science, but it can be incredibly rewarding for your job search with the easy changes outlined above.
Looking to Gain Industry Experience?
Sometimes standing out in your industry, especially when fresh out of university, means doing more than boosting your LinkedIn profile.
If you are looking to gain a competitive edge over other applicants when applying for jobs, then consider a virtual internship in your career field where you'll not only gain invaluable experience with an innovative company in one of 70+ countries, but you'll also gain career clarity and a wealth of professional skills through our supporting curriculum!