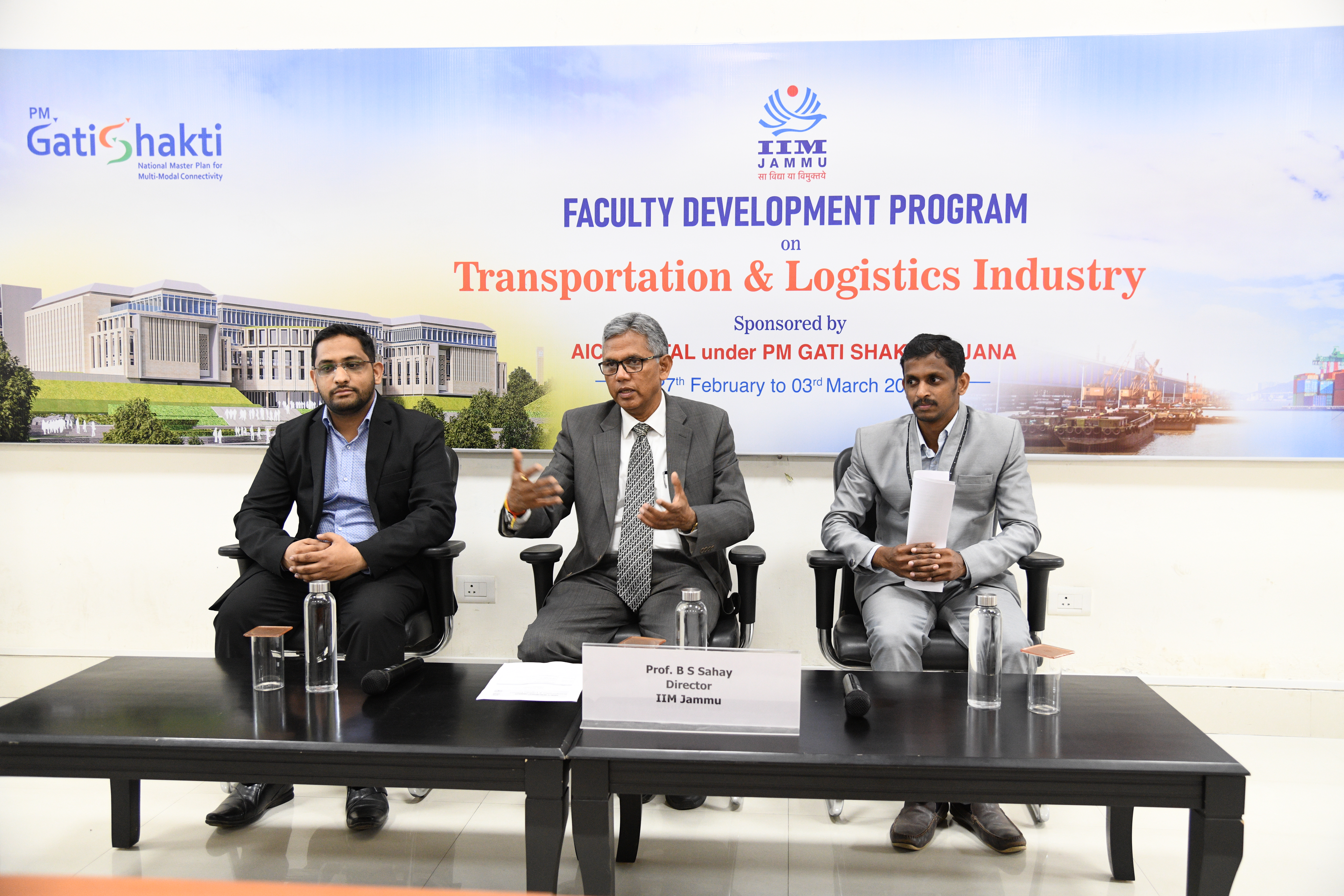 AICTE ATAL FDP on Transportation and Logistics at IIM Jammu concludes on a promising note
---
The valedictory ceremony for the AICTE ATAL Faculty Development Programme on "Transportation and Logistics" was held on 3rd March 2023. IIM Jammu had started the second week of its ATAL FDP on the Transportation and Logistics Industry under the PM Gati Shakti Yojana, sponsored by the AICTE ATAL Academy in an offline mode. The event was graced by Prof. B.S. Sahay, Director, IIM Jammu, Dr. Pratik Maheshwari, Co-Chairperson, Executive Education, and Dr. Praveen Vijaya Raj, Programme Director, IIM Jammu.
Prof. B.S. Sahay, Director, IIM Jammu interacted with the participants and encouraged them to pursue Ph.D. from a reputed Institute. He spoke at length about his illustrious journey and his vast experience in the field of supply chain management by quoting real-life examples. Lastly, he urged the participants to develop a holistic approach to supply-chain management to achieve success in this domain. Finally, he complimented Hon'ble PM Shri Narendra Modi for launching the Gati Shakti – National Master Plan for Multi-modal Connectivity and heralding a new chapter in governance.
The session was followed by a detailed interaction of the Director, IIM Jammu with all the participants and inviting their feedback. IIM Jammu is hopeful that the knowledge shared during the FDP will help the industry, and academics reach their fullest potential.